Emmanuel Pineau biography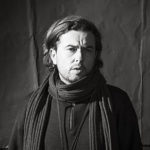 ​I was born in 1972 in west of France. I grew up in a small town near the Loire valley. Photography came really early into my life as, around 11, I started to use my father's old camera, a Voigtländer with a broken light meter… This brought me immediately into photography technic as I had to set the camera and evaluate the light by myself. When I was 20, I moved to Paris to study cinematography at the ENS Louis Lumière. I graduated in 1994 and then started to work as camera assistant on french productions for movies, music videos or advertising. During this period of time I worked with many different directors of photography such as Laurent Machuel, Mathieu Vadepied, Gilles Porte, Nathalie Durand… Around 2000, I was making my first steps as director of photography by shooting short movies, music videos or art videos (more on Unifrance, or on IMDB).
Meanwhile, I started a collaboration with the French artist and photographer Sophie Delaporte. We created a kind of a team in which I'm in charge of the lighting set up, digital and postproduction supervision. This collaboration leads us to travel around the world to work with clients in Paris, New York, London, Milan or Hong Kong, for fashion, beauty or art projects. Sophie is more and more solicited for video projects such as the last Repetto campaign we shot in Paris.
Some of my work is now available for licensing on plainpicture